History of the Paulaner Palace
Klostergasse 3
The house in Klostergasse 3 has been erected between 1863 and 1865 as a building for the bank of Leipzig. In 1905, the first floor as well as the two basements have been reconstructed into a restaurant. In 1920, "Paulaner Bräu" Munich assumed ownership of the property and operated the restaurant until further takeover by the VE HO (owned by the people) restaurant company.
From 1990 until March 2007, Paulaner Bräu Munich reassumed ownership of the restaurant. As of September 2007, after successful reconstruction, the reopening of the legendary Paulaner restaurant took place at Klostergasse 5.
Klostergasse 5
The building at Klostergasse 5 is one of the most beautiful private town-houses of the late baroque era (it features a courtyard). It was built in the middle of the 18th century and is one of Leipzig's last well-preserved houses of this era.
It has been named "Old Abbey", derived from the former convent of canons that used to reside in this building.
It has been erected by master manson George Werner, one of the most important master builder representative of Leipzig's rococo. Aside from the entire complex, the facades, stairways, roof truss, ground plan design as well as many original pieces of equipment (e.g. doors, chimneys, stucco ornaments) are of immense monumental value.
In the ground floor of the front building, there were magnificent shops, in the rear building entrepots. Besides the addition of an elevator shaft in 1905 in the courtyard and the rebuilding due to the enlargement of the Paulaner restaurant on the ground floor, the outside of the building has not been changed fundamentally.
The upper floors were used as offices and apartments. In parts of the second floor, there was a manufacturing facility for small leather goods. Since about 1980, the TAKRAF company intended to convert the building into an office building and to use the entire ground floor for gastronomic purposes.
Until December 2006, the building's upper division was used as office and class room by the chair of the University of Leipzig. The ground floor featured a cafeteria. In September 2007, our business centre, with a comprehensive range of services offered, opened on the third floor. At the same time, the WTC Leipzig moves into these premises. Moreover, the building contains offices of the oriental institute of the University of Leipzig. Also in September 2007, on the ground floor, there opened two diversified restaurants.
We express our gratitude to Bayerische Immobilien Gewerbe GmbH for the provision of the pictures.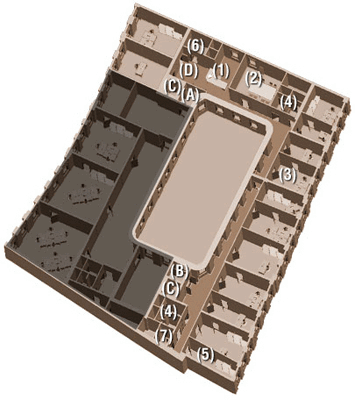 Reception desk
conference room with glass wall
Daytime office
bathroom
archive
kitchen
Utility room
(A) Entrance/Exit
(B) Emergency Exit
(C) Elevators
(D) Lounge
Interior views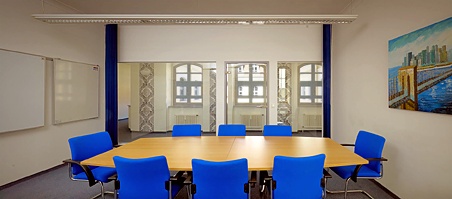 BMS
fullservice agency
top